Testimonials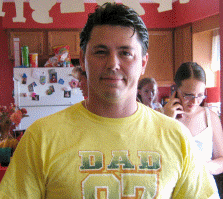 "He was Excellent!"
Tom Kennedy
Warren, Michigan
"David Castle has a Great Show!"
Kevin Casey
Sika Corporation
"(David) Really Made Our Event Extra Extra Special."
Dorothy Wilkins
Clintondale Community Schools
"Kids Loved Him!"
Mike Prisza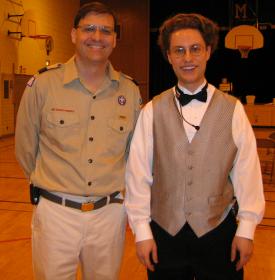 "We had Magician Dave do a magic show and balloon animals for our cub scouts. He did a Great Job!"
Dan Clements
Cub Master for Pack #85
"Dear Dave, Thank You for performing at our company during the Halloween party. Both children and the parents enjoyed the event. For sure we will keep in touch with you when we need your service."
Venkatesh Ram
HTC Global Services
"Thank you for the wonderful program - Frosty's Birthday Party. The kids and their families were enthralled by the theme and the magic. You made a wonderful afternoon for our community."
Michelle Yochim
Head of Children's Services
Romeo District Library
"Thank You!!! Everyone thought you were absolutely Great!!! I know that the head of the PTG hopes you continue your magic show as they would love to have you back!!!!! Everyone had a great time and really enjoyed your show!!! Thanks again and Happy Holidays!!!!"
Theresa Neu
"Hello Dave Castle. Thank you very much for going with the flow of our Trick or Treat event today. I heard nothing but glowing praise of your flexibility and showmanship. THANK YOU."
Anne Nagrant
City of Troy
"Thank you for all that you did. The residents really enjoyed you. Thank you very much."
Kelliann Drummond
Birchcrest Manor
"Dave Does A Great Job of Entertainment!"
Bob Gillette
Owner of American House Retirement Homes
"Thank you, on behalf of the entire staff and student body, for the outstanding performance. It really added a special touch!"
Mitch Ritter
Principal of Clintondale High School
"Dear Mr. Castle. Thank You Very Much For Making Our Daughter's Birthday Party Memorable. She And Her Friends Had A Really Good Time."
Sincerely,
Sandeep & Sandhya
"Thank You Very Much For Doing Our Event!"
Janice McManara
Lifetime Fitness
"Thank you so much for the Great Magical Experience. Your performance provided the children and families with fun and laughter. It was a super family event. We loved the audience participation that you provided. It was a true pleasure to have you here at our center."
Sharlene Welch
Dearborn West UAW-Ford FSLC Child Development Center
"You were Great!"
SMZ Advertising
"Thanks a lot for making David's Birthday Party a Memorable one!"
Maria Cadag-Balanon
"Michigan Magician Dave J. Castle gave a wonderful performance for Camp Adventure. The show was age appropriate and entertaining for everyone."
Lindsay Struve
Camp Adventure Coordinator
"We all had lots of fun and the kids all giggled a lot. Thank you for a fun time!"
Colleen Drabik
Director of Pinewood Child Care
"Our Headstart students enjoyed his performance!"
Mary Griffin
Center Administrator
Hartford Head Start Agency, Inc.
"Thank you SO much for coming to our Pre-School! I have heard a lot of POSITIVE feedback from the teachers, parents, and kids regarding your magic shows!"
Lisa Gryglak
Supervisor of Fox Hills Pre-School
"Michigan Magician Dave J. Castle did a FABULOUS job at the birthday party for my son, Dean. The kids laughed and were so entertained. He even tailored a couple of tricks to Dean's favorite character, Harry Potter. Thanks!!"
Susan Lawrence
"We thought that the Birthday Party Magic Show was VERY GOOD! The kids LOVED it! We ENJOYED it! Hopefully we will have you back NEXT YEAR!"
Michelle Brickner
"Your magic show at my CHILD'S BIRTHDAY PARTY was EXCELLENT! Your rapport with all of the children was also Excellent! You are a true professional!"
Michele Lester
"Your Performance was EXCELLENT!"
Danielle Gargano
Director of Childtime Children's Center in Fraser
"Dave the kids LOVED Your Show! If I can think of any referrals I will let you know. Thanks Again!"
Jim Cumming
Family Holiday Party
"I think that Magician Dave J. Castle does a WONDERFUL JOB of a presentation. The kids were very engaged. He is EXCELLENT with Cub Scout Packs! I would RECOMMEND HIM STRONGLY!"
Chris Schenkel
Cub Master of Pack #1181
"He did a VERY GOOD JOB holding the attention of all of the kids. He kept all of us entertained, and fun was had by all. I would RECOMMEND Magician DAVE J. CASTLE WITHOUT QUALIFICATION!"
Brian Gettel
Cub Master of Pack #1587
"The show was WONDERFUL and AWESOME! You had the full attention of the kids, and they listened very well. I WOULD RECOMMEND DAVE FOR FUTURE SHOWS!"
Pam Corbeil
Committee Chairman of Cub Scout Pack #149
"The show was VERY WELL put together! He did a GOOD JOB holding the attention of the boys. GREAT SHOW!"
John Kelly
Cub Master of Pack #145 & Unit Commissioner of Packs #148, #149, and #2472
"Thank you very much, the magic was FUN!"
Stacey DuFord
Former DJ on WNIC 100.3FM/Detroit
"GOOD JOB!"
Michael Curry
Former Detroit Piston Basketball Player
"Magician Dave J. Castle has a GREAT rapport with children!"
Deborah Bodner
Youth Services Librarian
Clinton-Macomb Public Library South Branch
"Thanks for your WONDERFUL performance yesterday and for going BEYOND THE CALL OF DUTY. You do a GREAT JOB and the Kids REALLY ENJOY it."
Char Roney
Student Activity Director
Macomb Community College
Return to Homepage